1 Slip Dress Styled for 4 Occasions
Most of my go-to everyday looks involve a slip dress.
< Follow @happilyeverstyle on Instagram >
I personally find a slip dress so easy to style for various occasions. Whether they are made of silk, satin or a blend of other materials, as long as they are soft to touch and comfortable to wear, then they're good to go.
A few months ago, & Other Stories gifted me a shoulder tie midi lilac slip dress (also comes in 3 other colors), and I fell in love with it because 1) the color is so pretty! 2) it's a loose-fit design, and 3) you can machine-wash it!
The lavender hue pops and the loose fit allows me to be more comfortable (i.e. I can eat that extra piece of cake). And yes, the fact that I can throw it into the washing machine is a bonus because I don't always have time (or maybe patience? Hehe) to hand wash. I love it so much, I actually went online and bought the same one in black!
I'm big on being able to style the same piece in different ways — maximizing a minimal closet is the way to go! So here are 5 different looks I've put together with my new everyday slip dress.
I wore this look to a friend's wedding in Brazil back in June! I had a pink blazer on during the ceremony and reception when we were sitting in cold air-conditioned rooms, and took it off when the party got started!
To complete the look, I went for a comfortable and elegant pair of white pumps with bejeweled straps that I received as a gift from Bella Belle Shoes.
The bag is from my new favorite Italian luxury bag brand called Benedetta Bruzziches.
Photo by Ashley Gallerani Photography.
Ready for a Rooftop Picnic
One of my husband's favorite summer activities is to go for a picnic, whether it is in the park, by the water or on a rooftop!
This casual weekend outfit features a maxi vest, flat sandals from Mint and Rose, as well as a clear tote by Jeff Wan.
Photo by Ashley Gallerani Photography.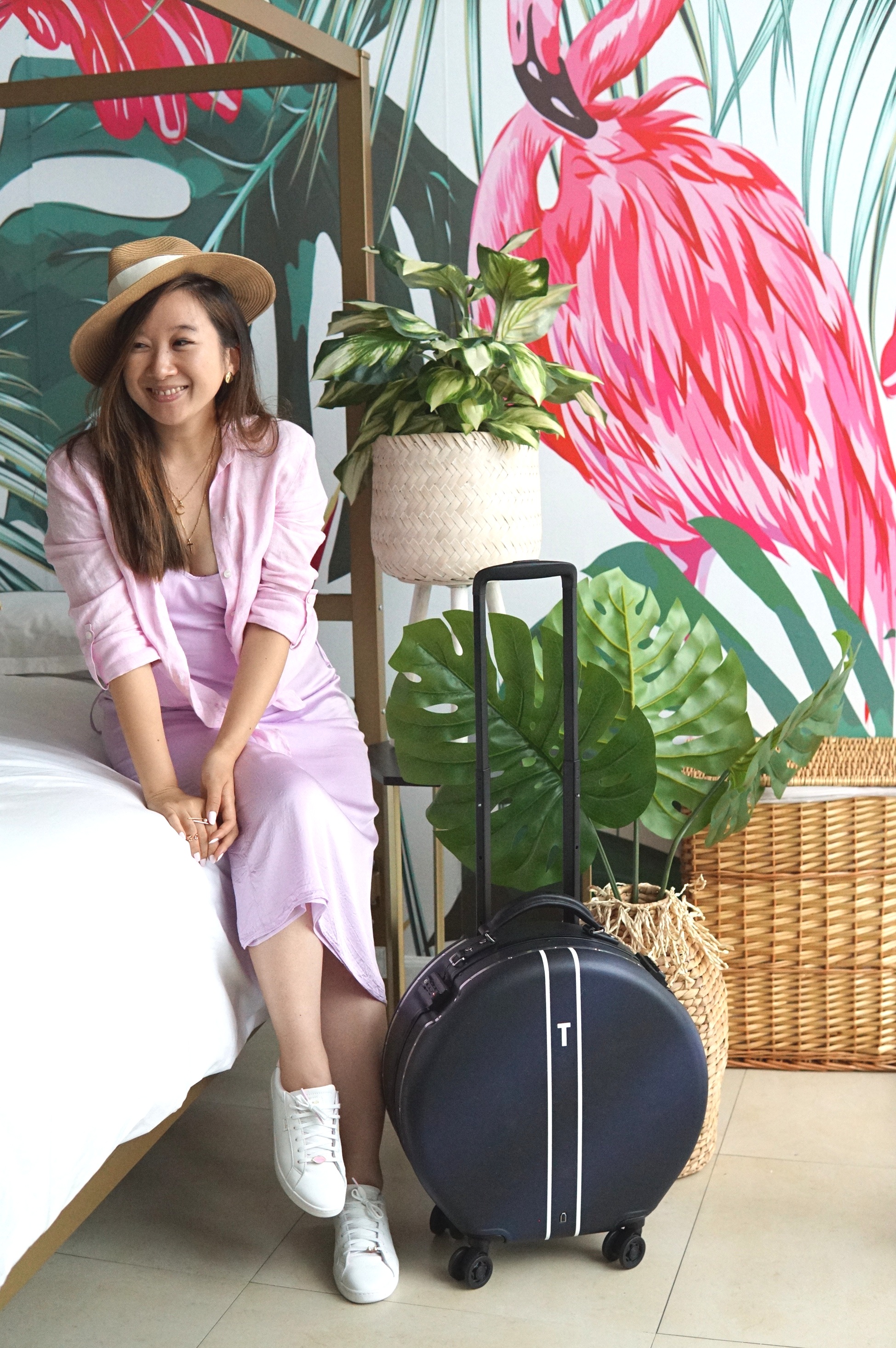 In July, I went on a weekend trip with some fellow content creators to Miami, and I wore this outfit on the plane!
I paired the slip dress with white sneakers and a light linen buttoned down shirt, which together allowed me to be comfortable without looking too comfortable.
My leather round suitcase that is the perfect size for a short getaway is from a Hong Kong brand called Ookonn.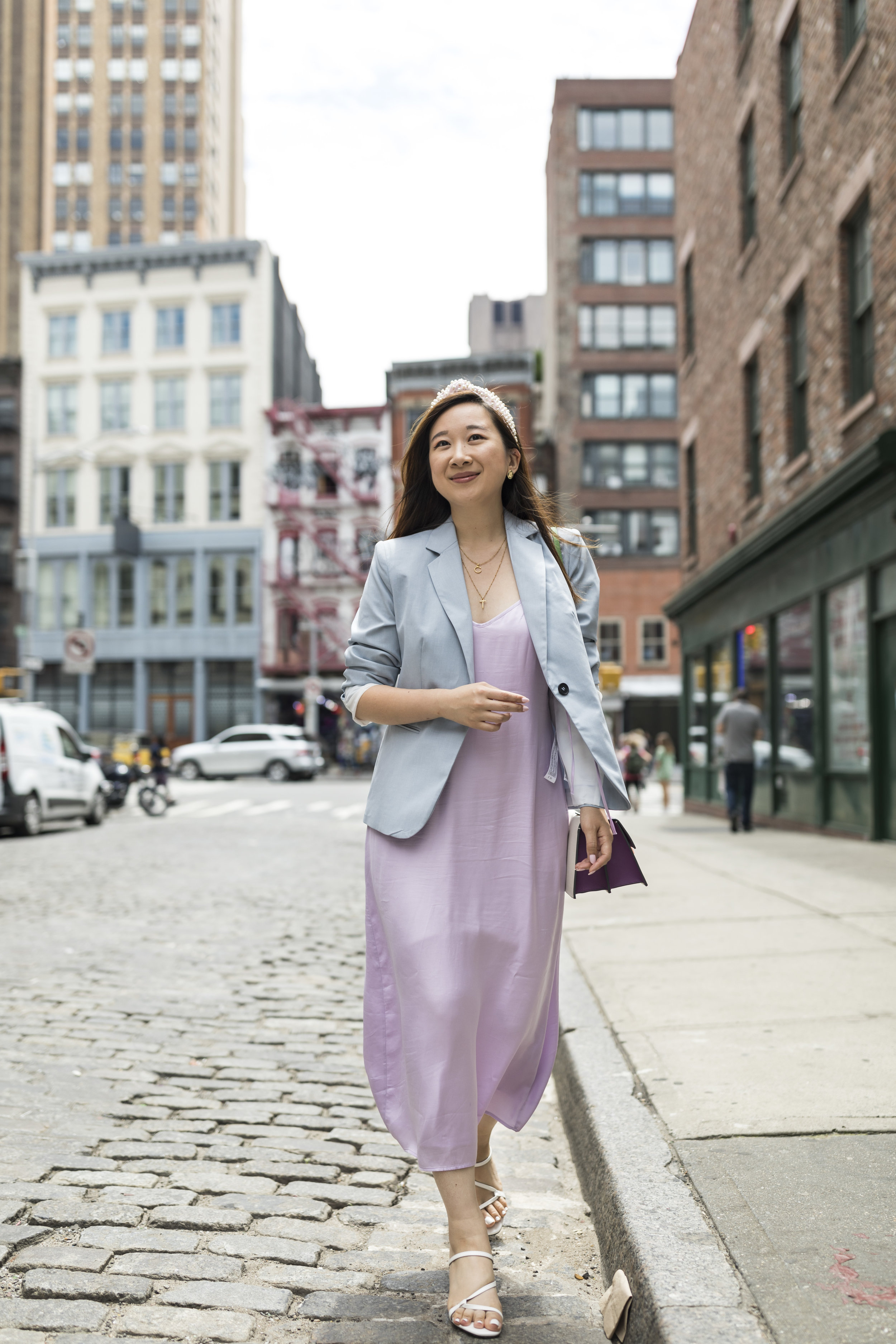 Running to a Coffee Meeting
A slightly less dress-up version of the "wedding guest look," this outfit works for the office, and in my case, perfect for coffee meetings!
Any blazer can easily work but I picked out one in baby blue because I wanted to stick to the pastel theme.
Photo by Ashley Gallerani Photography.
In case you're thinking this dress is only suitable for the current season, think again! I actually can't wait till the weather cools down so I can layer sweaters and cardigans over the slip dress for a fall look!
Which outfit was your favorite? Let me know by leaving a comment below!
Thank you for stopping by Happily Ever Style.
xoxo,
Tricia
Win a $400 Amazon Gift Card!
Win a $400 Amazon Gift Card by just giving a few minutes of your time!
How to Enter
Entering is easy! Use the widget below to enter. You can earn points for every action you take (follow someone on Instagram, click through to a blog post, etc) The more actions you take, the more points you win! The widget will randomly pick a winner, so your odds increase with the more points you have!
Make sure to actually do an action as we check to make sure you really entered correctly and will not award prizes to people lying.
Click the below link to enter the giveaway.
Email Newsletter
As a heads-up, by entering this giveaway, you are opting into all the hosts' email newsletters. You may opt out of their newsletters at anytime after receiving them.
Tricia Chen
Tricia Chen is co-founder of Key To Radiance. She loves having fresh flowers in her apartment, putting on face masks, savoring cupcakes and a daily cup of grande almond latte. She works in PR and Marketing, and is currently based in New York.
Skin Type: Combination skin with an oily T-zone area (forehead and nose). Changes in climate, diet and/or lack of sleep irritates skin and causes inflammation, which then leads to large pores. High moisture level required on dry cheeks.