Dress Code: Christmas Sparkles
Shine bright like a diamond!
This is the best time of the year to add some – or a lot if you'd like – of sparkles to our outfits! But depending on the event you're attending, and how much bling-bling you're comfortable wearing, the level of sparkliness can vary. Today, I'm sharing three outfits with different levels of "kira-kira" that'll hopefully give you an idea of how to incorporate the sparkles into your holiday looks!
'Tis the season to wear sparkly heels
If you're attending a family gathering or a holiday work function, maybe you'd want to just have a touch of bling, and keep the overall look subtle. A great way to do that is styling your outfit with a pair of sparkly heels!
I actually wore this pair of heels on my wedding day last year! I was never sure about sparkly heels, but I fell in love with them when I first tried them on! I try to re-wear them and put them to good use even after the wedding, an I think Christmas is a great reason to wear them out and show them off!
This outfit features a white cape that has the jacket-over-shoulders effect. Underneath is another creamy white sweater to keep the overall color palette soft and clean. On the bottom is a blush silk midi skirt.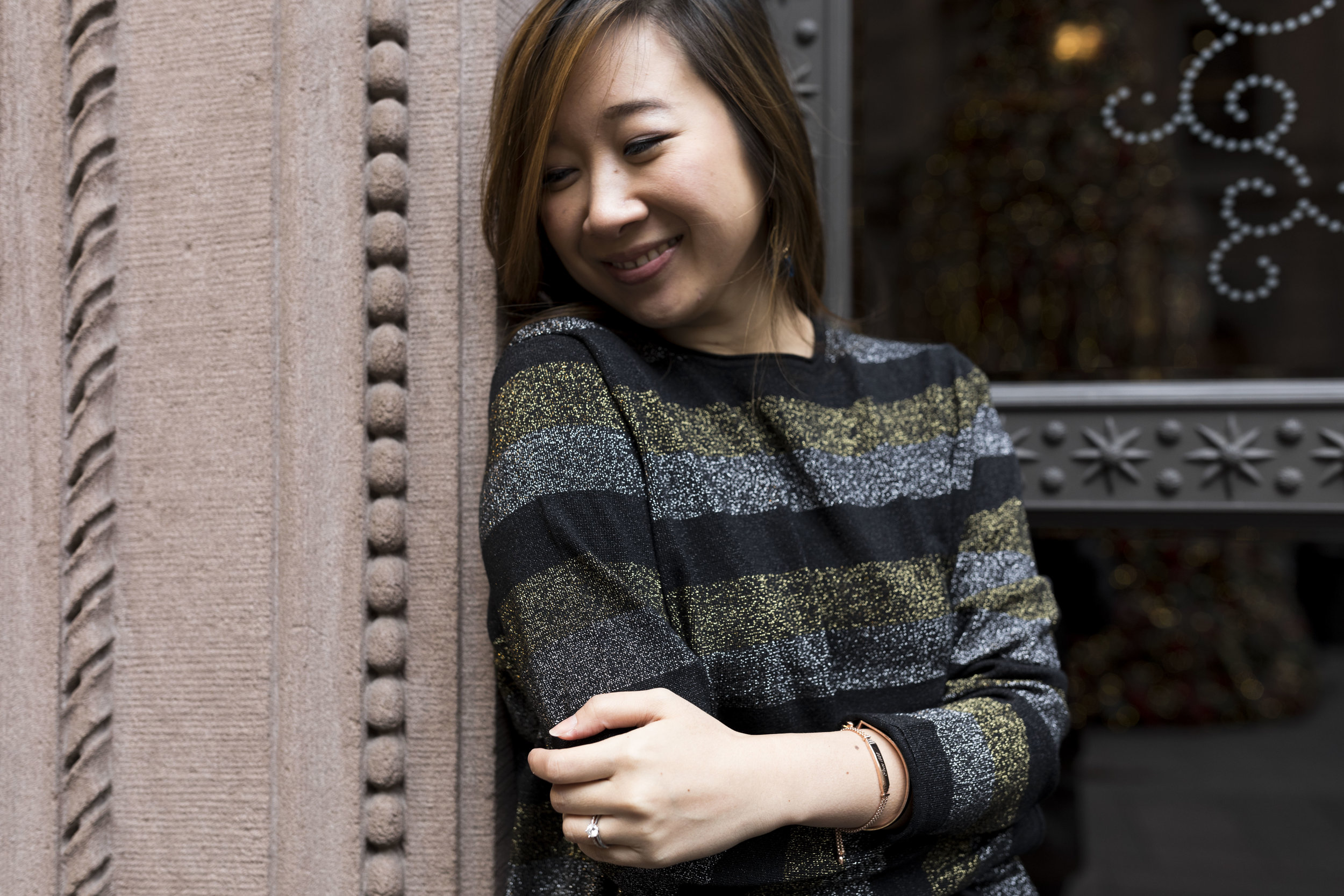 This sweater says "Christmas-ready" all over.
Let's say you're grabbing drinks or a casual (but really not so casual) dinner with friends, this outfit might be a good one! The sweater is comfortable and loose, which allows you to eat a lot but still look chic!
I got this sweater from the Who What Wear collection available at Target for less than $30! I love being able to not spend a lot but have a fresh party-ready look. The go-to sparkly pair of black party pants is a few years old, yet still perfect for Christmas this year.
If you feel comfortable adding more bling to this outfit, I think a silver bib necklace would look great with this sweater!
Go full-on with the sparkles!
So there's a big Christmas cocktail party you're invited to – well, what are you waiting for? It's time to turn up the sparkly level to 100%!
I don't own a glittery dress, so I rented from Rent the Runway! There were so many different choices, but I went with this gold sparkly dress from Slate and Willow because it has a clean design and I like wearing dresses that are not too short.
On my hair, I added a gold hairpiece from Maggie Wu Studio. It's designed to work like a hairpin so it was very easy to put on by myself.
Which look out of the three is your favorite? How would you like to sparkle this holiday season? Let me know in the comments below!
Thank you for reading!
Love,
Tricia Chen
Tricia Chen is co-founder of Key To Radiance. She loves having fresh flowers in her apartment, putting on face masks, savoring cupcakes and a daily cup of grande almond latte. She works in PR and Marketing, and is currently based in New York.
Skin Type: Combination skin with an oily T-zone area (forehead and nose). Changes in climate, diet and/or lack of sleep irritates skin and causes inflammation, which then leads to large pores. High moisture level required on dry cheeks.