10 Reasons Why You Should Visit Aruba This Winter
Hey, everyone!
As many of you know, I was in Aruba last week. It was my first wedding anniversary on November 26th, so the hubby and I decided to go on a trip over the Thanksgiving weekend to celebrate! In the process of planning, we were picking between a lot of destinations and finally went with Aruba, because we decided we wanted to do nothing but to relax on a beach!
Thankfully, we did choose to go to Aruba because it was more than, even nicer, and a lot better than what we expected!
In case you need a suggestion of where to go next (or this winter specifically), here are my reasons why Aruba should be on the top of your list:
Only a 4-Hour Flight from New York
In less than 4 hours, I landed at Queen Beatrix International Airport, the international airport located in Oranjestad, Aruba, from JFK. And the time difference between the two places is only one hour, too. All of that meant: no jet lag! Hooray!
A short flight also makes extended weekend trips possible. Just take one day off, and go for 3 nights!
Beach Weather All Year Round
Aruba has a fairly constant temperature all year round, usually at around 80 degrees Fahrenheit. The sun is strong but the light wind makes the heat a lot more tolerable. Heavy showers do occur in November and December, but during the few days I was there, it only rained for a total of 10 minutes!
Softest White Sand
I think Palm Beach in Aruba is one of the cleanest sandy beaches I've ever been to! There are sections of the beach where you'll find more pebbles than other areas, but overall, the sand is super, super soft.
Fresh Fish and Great Flavors
It is no surprise an island like Aruba would have a lot of fish dishes occupying a large section of the menus in local restaurants. I mean, fish is fish - what's so special about that, right? At least, that was what I thought! However, I was so wrong. I ordered red snapper and mahi-mahi at several places I dined at (including Fishes and More, Atardi in the Marriott Resort, and Salt & Pepper), and every single time they were so tasty and well-flavored. Even the fish and chips my husband ordered at Hyatt Regency, the resort we stayed at, was so good - perhaps one of the best fish and chips we've ever had! No joke!
Friendly People
Every single person we came across was very nice and friendly. The island lifestyle is naturally more laid back and Aruba being a holiday destination creates an even more relaxing atmosphere. When you see people smiling at you, you naturally smile back! And smiles can only put you in a good (or better) mood, #AmIRight?
English Works 99% of the Time
Locally, a lot of languages are being spoken, including English, Spanish, French and Portuguese. Out of the many, many people we talked to, we only came across one person at the airport's information center (ironically, hehe) who didn't understand nor speak English. Everyone else spoke perfect English and we didn't have any issues with directions, food-ordering, shopping at the markets etc., which was great!
Gamble A Little If You Like
One thing I didn't know about Aruba before I booked my trip was that there are casinos in some of the resorts and hotels. The resort we stayed at had its own casino, and it was fun spending time there after sunset. Although, it wasn't all that fun when we managed to lose $300. Oops.
Beautiful Sunset Views
Every night in Aruba, I clung to the sunset. I wanted to pause the moment it painted the sky with yellow, orange, and red. Regardless where we were - on the beach, by the pool, in our room - the view was breathtaking and 100% Instagram-worthy.
Perfect for Celebrations
As mentioned, I went to Aruba mainly because my husband and I wanted to go there and celebrate our first wedding anniversary. And I thought it was a perfect spot for it! Nothing beats dinner on the beach as the sun sets.
Family-Friendly
I also noticed a lot of parents with their little ones in Aruba. There were several families traveling together, too, which I thought was really nice! It got me thinking: when my friends and I have kids, we got to plan a trip there together! There were a lot of activities designed for children, and the environment is safe for them too.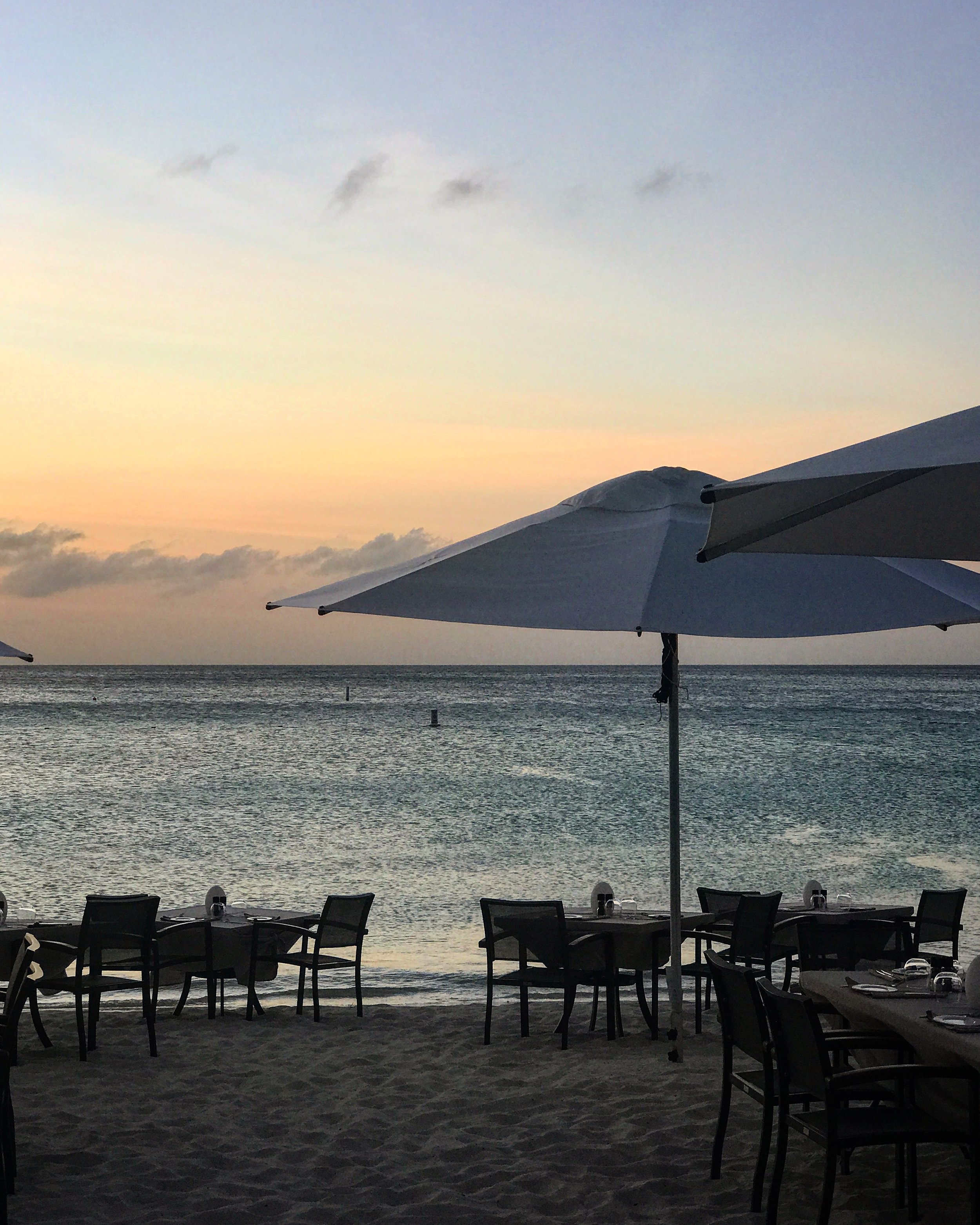 If and when you do go to Aruba, let me know what else about the island you think should be added to this list of reasons! Thank you for reading!
Love,
Tricia Chen
Tricia Chen is co-founder of Key To Radiance. She loves having fresh flowers in her apartment, putting on face masks, savoring cupcakes and a daily cup of grande almond latte. She works in PR and Marketing, and is currently based in New York.
Skin Type: Combination skin with an oily T-zone area (forehead and nose). Changes in climate, diet and/or lack of sleep irritates skin and causes inflammation, which then leads to large pores. High moisture level required on dry cheeks.